Join us as we venture out for a historic day in Douglas, Wyoming. It's a great spot for a weekend get-a-away!
Selecting a Scenic Route to For Fetterman
Our main destination was Fort Fetterman so that's where we headed first. Traveling south from Casper, Wyoming we thought it would be more fun to get off the beaten path and pass through Glenrock so we took the historic highway route. Sometimes it's great to just get away from the freeway and spend some time exploring the backroads! Take US-20E/US-26 E to WY-95N to WY-93E. If your destination is Fort Fetterman it is essentially the same driving time and the route is more scenic as it follows along the North Platte River much of the way.

Pitstop One: Rock in the Glen
Now that we had our route selected we decided to make our first pitstop in the historic town of Glenrock, Wyoming. Glenrock has a really neat historic site similar to the better known Independence Rock where emigrants carved their name in the distinctive rock face. This lesser known location is definitely a hidden treasure! According to Wikipedia, the landmark has been viewed by an estimated 350,000 immigrants that have migrated westward since the mid-1800s! We thought this was definitely a place worthy of being added to our itinerary. We took some time to stop and read the interpretive sign and then to hike around and explore the distinctive geology and to find the names left in the rock formation from those intrepid emigrants passing through in the early days of the West. Afterwards we stopped and got a cold drink from one of the little convenience stores in the town and made the turn on WY-95 towards Fort Fetterman.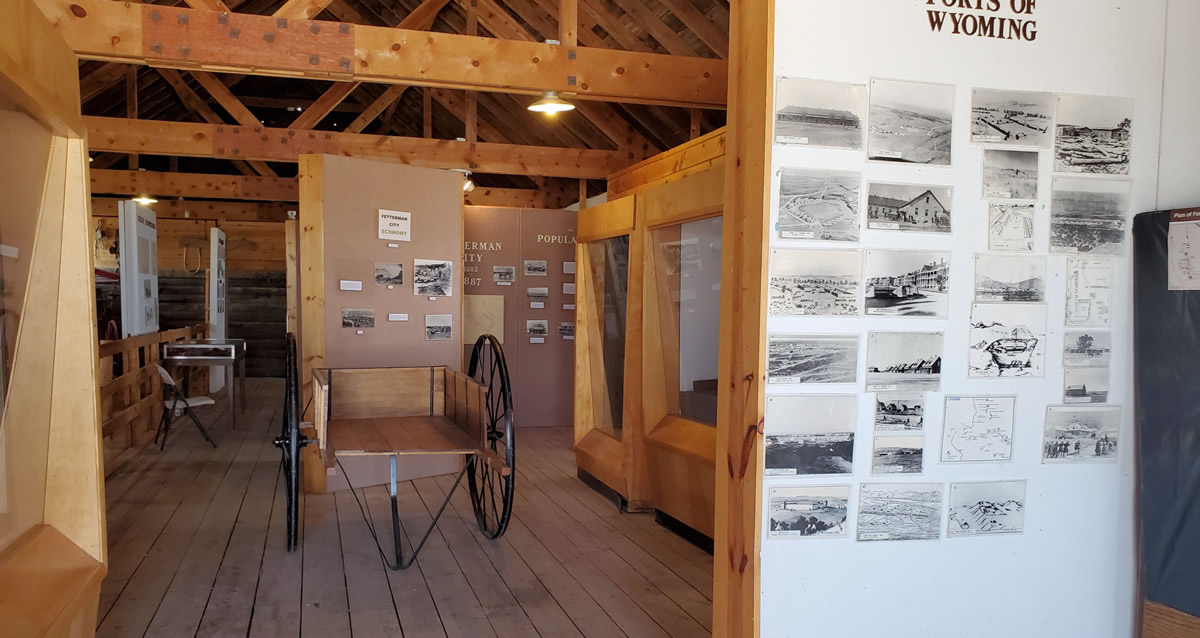 Fort Fetterman
After a serene and scenic drive along a beautiful and well maintained two lane highway we arrive at the main attraction: Fort Fetterman! Fort Fetterman is situated near the banks of the North Platte River and LaPrele Creek is just across the highway. As we pulled into the lot for the historic attraction the first building we noticed was a curious picnic table shelter that was made out of fossilized trees!

In it's day Fort Fetterman was a sprawling Fort filled with buildings. Most of the original buildings were carted away or fell into disrepair. We were told that people in Douglas actually have some of the buildings from the original fort as part of their homes or on their property when the town of Fetterman relocated to the current town of Douglas to follow the path of the railroad line. The Fort Fetterman Historic site has a really neat display inside the main museum building that shows the original layout of the sprawling fort in it's heyday. As you walk around the grounds you can see the foundations and they have the corners of the original buildings marked so you can visualize the way it must have looked.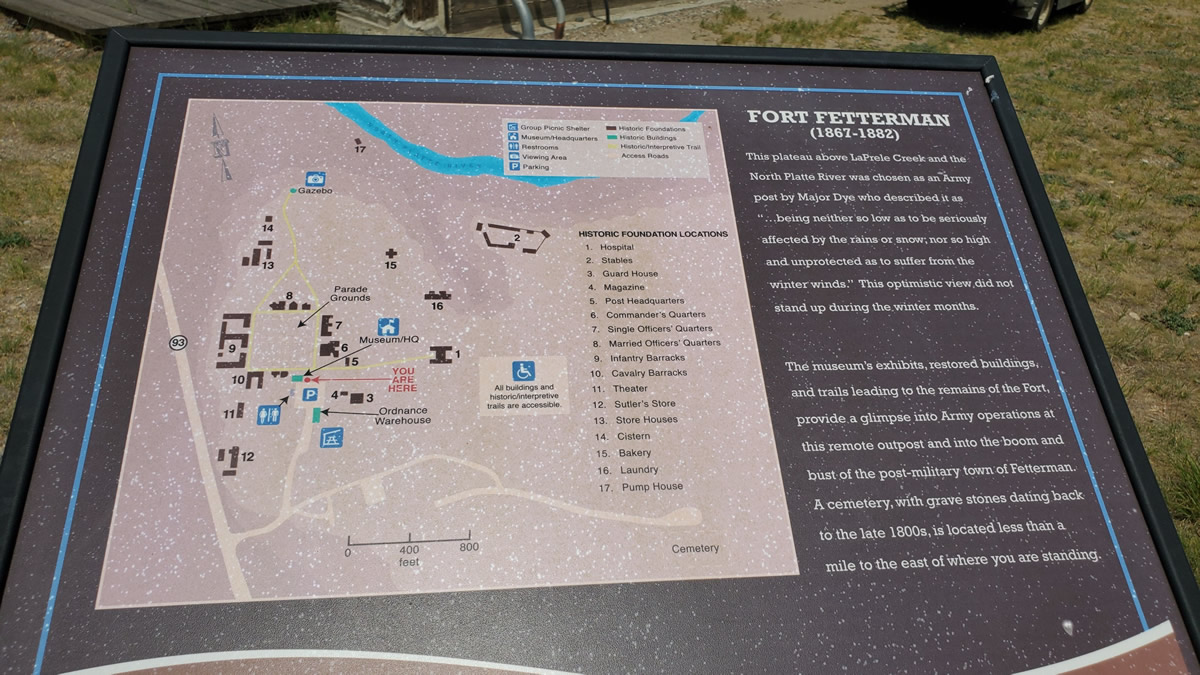 There are two main buildings to explore; an officer's quarters and an ordnance warehouse. Both are full of area photos, artifacts and interpretive signs. Museum staff were friendly and more than happy to walk with us around the site, answer all our questions and engage us in some friendly chat! It was quite warm outside and they even offered us cold water to take as we walked out on the little paths that take you through the historic site to an overlook of the North Platte River that supplied the soldiers' with their water supply. It was quite a long walk to the well-site and we didn't envy the people who lived on the Fort back then and had to do that regularly, especially in the winter!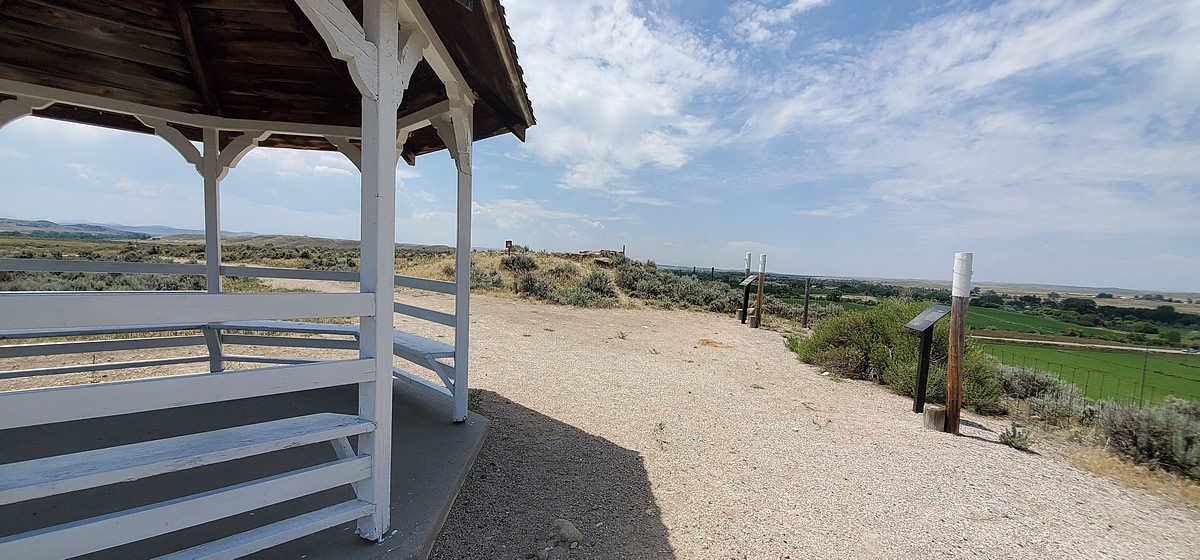 As we walked back to the main museum there were spots were you could stop and read historic facts and tidbits about various spots and these neat little viewing tubes that helped you spot the area that was being discussed. I had never seen those at any historic site I have visited in the past but it was definitely helpful! We stopped back in the museum and purchased a couple of books on Wyoming history as well as a magnet for a souvenir and decided to head into Douglas for a late lunch.
A Late Lunch in Douglas
We were hungry after wandering through so much history and thirsty too! We ended up stopping at the Plains Trading Post Restaurant upon the suggestion of one of the museum volunteers. What a great choice! The massive historic building had all these great little hidden nooks and was full of area history and antiques. You can sit wherever you like so and enjoyed picking our own spot! They brought us great big sodas full of ice as soon as we sat down and that was just what we were craving after a day in the sun. The food was homestyle and there was a salad bar that we both got for a starter as well. Everything well well cooked and hot. I got a grilled cheese with tomato and a big plate of perfectly cooked fries along with the oyster stew which piqued my interest. We took our time eating and afterwards walked around the restaurant to soak up all the history.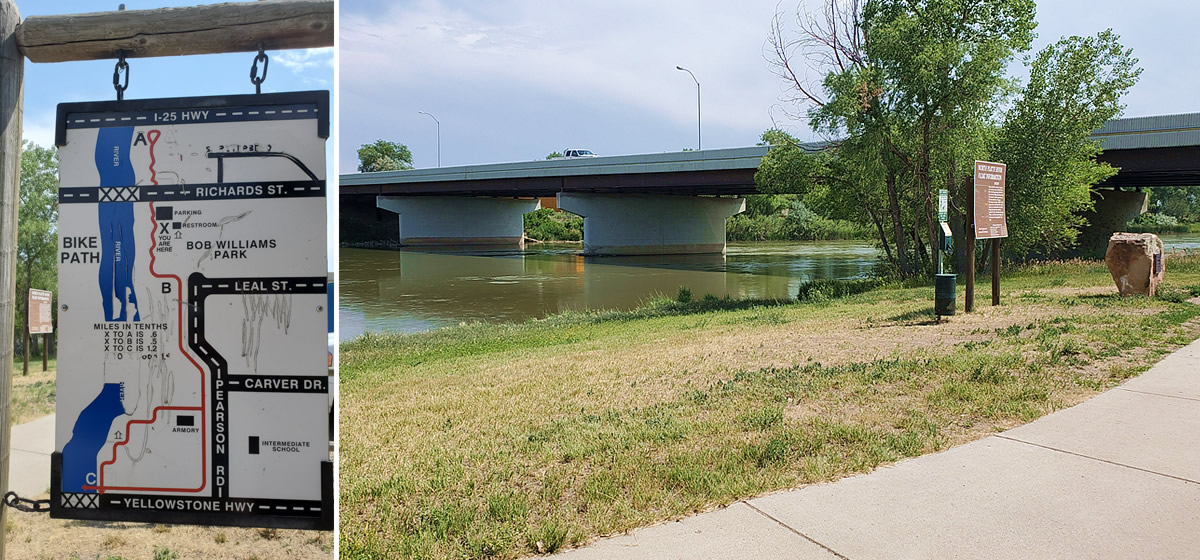 The North Platte River Walk
After lunch we headed out to the Douglas North Platte River pathways. We ended up parking at North Platte River Walking Trail and Workout area. You could talk the path north or south from there. There were lots of people out enjoying the river and the path was easy to walk on. There was also a workout area where fitness seekers can do workout moves! The pathway is pet friendly for leashed dogs.
Ice Cream at the Plains Ice Cream Parlor
After a nice stroll along the banks of the river we found a nice shallow area where we could wade and cool down. Then it was back to the Plains Ice Cream Parlor for some well earning ice cream delights. The old fashioned ice cream parlor was hopping! It seems like everyone in town had stopped for some ice cream. The old fashioned soda foundation style building has a cute lunch counter feel although there is outside seating as well as booths. We saddled up to the lunch counter and ordered. I got a Coke Float and reflected on a day well spent!