Glenrock Christmas Shoppe 2022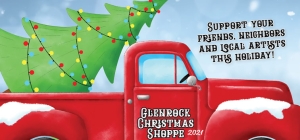 The Christmas Shoppe!
We will be at 206th South 4th. in Glenrock, Wyoming. We have several local artists. We will open on Black Friday and stay open through Christmas Eve. Can't wait to see you!!!
---
Put a unique hand-made gift under your Christmas tree!
Glenrock is home to many talented artists working in a variety of mediums. Their work will be featured in the Glenrock Christmas Shoppe!
Money spent at Glenrock Christmas Shoppe stays in our community, supporting local artists, business people and families!
Glassworks ~ Paintings ~ Ornaments ~ Crafts ~ Food Items ~ Jewelry ~ Baked Goods ~ Pottery ~ Felting ~ and MORE!!
HOURS:
Monday - Friday 11 a.m. - 7 p.m.
Saturdays 10 a.m. - 3 p.m.
Christmas Eve 11 a.m. - 4 p.m.