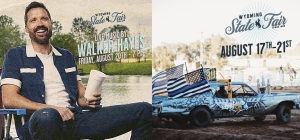 The Wyoming State Fair is back for its 110th Year. Douglas, Wyoming is the place to be August 16-20! Enjoy live musict a two night PRCA rodeo, a WSF State Championship Rodeo, Demolition Derby, Carnival, Vendors and much more!
Get the full schedule by visiting the Wyoming State Fair website: https://wystatefair.com
---
PRCA RODEO & WY STATE CHAMPIONSHIP RANCH RODEO - PRESENTED BY WYOMING MACHINERY COMPANY
AUGUST 17, 18 & 19
WALKER HAYES
FRIDAY AUGUST 20
DEMOLITION DERBY - COME SEE THE METAL TWISTING ACTION
SATURDAY, AUGUST 21
AND SO MUCH MORE!
---
CARNIVAL
Hours:
Tuesday, August 17 – 1:00 p.m. to 11:00 p.m.
Wednesday, August 18–11:00 a.m. to 11:00 p.m. "Youth Day" Wristband Special
Thursday, August 19 – 11:00 a.m. to 11:00 p.m.
Friday, August 20 – 11:00 a.m. to 11:00 p.m.
Saturday, August 21 – 11:00 a.m. to 12:00 midnight