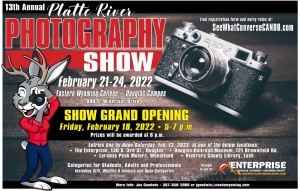 Come join us for the 13th Annual Platte River Photography Show on Feb. 21st - Feb. 24th at the Eastern Wyoming College Douglas Campus!
Open during regular business hours.
Categories for Students, Adults, and Professionals
Including Still, Wildlife & Animals, and Open Categories
---
For more info call The Enterprise at 307-358-2000 and ask for Jen Goodwin.
Saturday Feb 18th - SHOW GRAND OPENING - 5-7 p.m.
Saturday Feb 19th - PHOTOGRAPHY WORKSHOP - sign up form below
---
ENTRIES
Saturday Feb 12th - Entries due by noon. If you wish to enter grab the form below.
---
Photography Entry Form Workshop Registration Form
---
For more info: