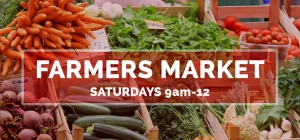 FARMERS MARKET! Jackalope Square - Douglas, Wyoming.
9:00 am - 12:00 noon
Saturdays during August and September, area gardeners, bakers, craftspeople and more gathering in Jackalope Square, located at the heart of downtown Douglas, for their annual farmers markets. Come enjoy live music, local culture and small-town, Wyoming at its best. While you're in the area, take in the dining and boutique shopping in the Jackalope City and visit the Douglas Railroad Museum.
More info: Jen at 307-358-2000 or This email address is being protected from spambots. You need JavaScript enabled to view it.